1. As I'm running out of true crime podcasts to listen to, I've subscribed to a couple of public-domain audiobooks. It turns out that when it comes to audiobooks, you get what you pay for. Awkward narration can really ruin a good book. I started listening to a recording of Oliver Twist read by an Irish guy who mystifyingly gave the characters Brummie accents instead of Cockney accents. Like…maybe he didn't realise? Maybe he thought he was doing a Cockney accent? But a Brummie accent is very specific and hard to do. Inexplicable.
2. Here's something I'm tired of reading on dating sites: "I'm tall enough for you to wear your heels." News flash: women are allowed to be taller than men! My choice of footwear is not going to be affected by the worry that I am going to intimidate you or whatever!
Volkswagen even made an advert based on the whole "Uh oh! She's taller than him! WAH-WAHHH!" bit. Remember this?
Ugh. I've developed my own personal version of the Bechdel test where I mentally swap the roles of the men and women in a given scenario. The more ridiculous the result, the bigger the fail.
3. True crime all the time! I've been watching a lot of Homicide Hunter. It is brilliant and has all the awkward reenactments you could ever wish for. Every episode starts the same way: first, the body is discovered ("April 4th, 1989. It's a quiet morning in Colorado Springs, and Bob Jones is walking his dog in a scenic local park. Little does he know he's about to make a gruesome discovery." YESSSS). Then, every time, they say something like, "Meanwhile, across town, Lieutenant Joe Kenda is [catching up on paperwork/practicing at the firing range/giving a course on identification/attending an autopsy/at the zoo/having a wank/trying on ladies' underwear/whatever] when the phone rings." OK, this is like thirty years ago. There is no way you remember exactly what you were doing when you got called out to every single murder case you ever worked on, and even if you did, we really don't need this information. Let's just assume that Lieutenant Joe Kenda was somehow informed about the presence of a dead body and subsequently attended the scene.
4. Dear colleague: here's the thing. I'm sorry you have allergies all day every single day. That must be no fun for you. But if you're in an office in close proximity to other human beings, could you maybe leave the room before blowing your nose, rather than messily and wetly snonking into a Kleenex every five minutes while you're sitting two feet from me? I'm worried my face is going to freeze like this…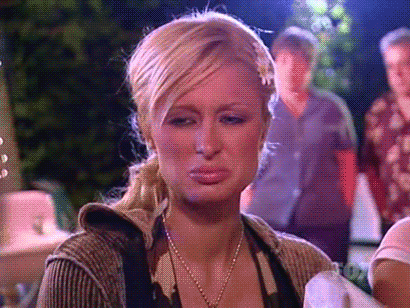 …or that I'm going to damage my hearing by constantly turning my headphones wayyyyy up to drown that shit out*. Gross. GROSS.
*Incidentally, should you find yourself in a similar situation, I've found that Arcade Fire provides a nice solid wall of sound that covers up background noise very effectively.
Boy, nothing is good enough for me, is it? No wonder I'm single. How about I talk about something I liked for a change?
5. I was in Islington the other day and passed a sign for an estate agents' called Hotblack Desatio. I assumed that the company was founded by someone who (like all rational human beings) really really loved Hitchhiker's Guide, but it turns out that the estate agents' came first and Douglas Adams stole the name (it is an undeniably cool name). I feel like I stumbled across a little piece of history there. This happens to me much more often in England than it ever did in Canada, funnily enough. (I stumbled across Abbey Road when I was living in Kilburn. I'd had no idea I was living like a mile away from it.)